——————————————————————-

Note: Menu items with a star are recently updated!
——————————————————————-
 Never mind the struggles, the mistakes. I never heard a cow tell a lie, but it is only a cow — never a man. So never mind these failures, these little back-slidings;  hold the ideal a thousand times, and if you fail a thousand times, make the attempt once more.                                             – Swami Vivekananda.
UPCOMING EVENTS
SANGEETHA JHARI ANNIVERSARY ON 29 Jan., 2017
The anniversary of the monthly Carnatic music appreciation programme. The young artists who performed through the year would recieve momentoes and certificates.
A well-known maestro of carnatic music would deliver a speech on the importance of music and methods of learning.
2K, 5K RUN ON 5 Feb., 2017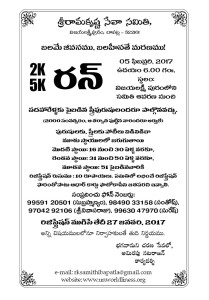 REGISTRATION FORM
Registration forms for both 2K and 5K are present in the link. Print out the page that is applicable to you.